Covid-19 Customized Face Shields
Face Shields reduce exposure to the new Covid-19 Virus of up to 96%. Give the gift of safety to your co-workers, family members and friends.
As long as there is no cure for the novel Corona Virus, all of us are permanently in danger to be exposed to it, especially inside or in crowded places. Within only two weeks development time, we found a way to produce a face shield that meets all Vision1's core values such as:  Premium quality, functionality and sustainability. There is no minimum order quantity and from a 1,000 pieces we can customize them for your brand. 
We already supplied multiple customers with customized or non customized face shields and the feedback is great so far. Especially people in customer facing jobs love them as they keep them safe, while being able to help customers with a smile.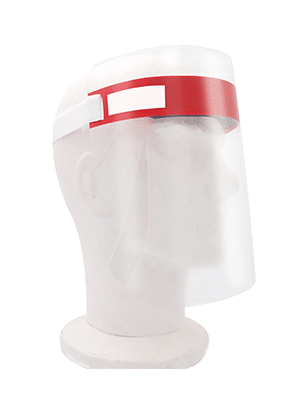 Vision1 Face Shield Specs
Flexible visor 0.5 mm / 0.02 in thick; Weight: 60g / 2.11 oz 
30.0 cm / 11.8 in wide x 22.5 cm / 8.9 in high; reaches below the chin 
Allows you to wear optical glasses underneath 
3.5 cm / 1.4 in wide, adjustable, elastic rubber band 
ECO foam between forehead and visor 
30.0 x 3.8 cm / 11.8 x 1.5 in branding option on front label 
Additional name / ID in white possible
Material: Polycarbonate
If you need more than 50 pieces, please be in touch via the form below and we'll get back to you within 24 hours.