Many of us are well-into Corona lockdown and there's one online debate that has crossed everyone's newsfeed: Why should we all wear facial protection in public spaces? Here's a look at some key facts, guidelines and best practices for protective facial wear.
A face shield is a type of protective gear that is used to shield the face and face mask from droplets in the air. Face shields are most effective when used in conjunction with face masks and other safety measures (eg. hand washing and sanitising).
A study has shown that face shields can reduce the wearer's exposure to droplets by 23% – 96% (varying according to a few factors). 
For example, if you are wearing a face shield and an infected person coughs nearby, the face shield can reduce the amount of your inhalational exposure by 96%.

The more time that goes by after that person coughs, the more time particles have to spread into the surrounding air and flow around your face shield.

After 30 minutes, for example, face shields can reduce your inhalational exposure by 23%.

An important benefit of face shields is that they also make it more difficult for the wearer to touch their face, which helps avoid situations where a person has touched an infected surface and then rubs their eye or touches their face mask without realising.
How to clean a reusable face shield.
Remove the reusable face shield by holding the elastic rubber band, not the transparent shield that covers the face.

Reusable face shields should be carefully treated with disinfectant solution on the inside and the outside to kill bacteria and viruses. 

Immediately wash your hands after cleaning the reusable face shield. 
While surgical and cotton masks do not prevent a person from contracting COVID-19, the key reason behind encouraging the public to wear masks is that they can help protect other people in case you are infected. According to the World Health Organisation (WHO), up to 80% of COVID-19 cases show mild symptoms or none at all. For this reason, it's not enough to only wear a mask if you feel sick, because you could be infected (and spreading the virus) without realising. 
The Centers for Disease Control (CDC) recommends that people wear protective masks or cloths to cover the mouth and nose in public spaces as an additional health measure to social distancing and frequent hand washing. Face masks can help prevent spread of Coronavirus caused by coughing and sneezing, reducing the number of droplets that enter the surrounding air. Even a small reduction in community spread can make a big difference to the pressure put on hospitals and medical resources (Greenhalgh et al, 2020).
Using a face mask correctly is vital. Many people have never worn masks before, so these steps are important to remember:
Always wash your hands before touching the mask (with soap and water, or an alcohol-based sanitizer) and hold it by the straps to fit it on your head. 

There should be as few gaps as possible between the mask and your face. 

Continue to wash your hands regularly and don't touch the mask while it's on your face. If you do, wash your hands immediately.
How to clean reusable face masks.
Remove the mask when it feels damp or you have been wearing it for an extended period of time. Remove the mask by holding the straps, not the part that covers the mouth.

Reusable masks should be washed at 60 degrees celsius (unless otherwise indicated) to kill bacteria and viruses. 

Immediately wash your hands. 
More information on proper mask use and safety can be found here.
Vision1 has introduced a new range of protective wear for the face, so that you and your business can be prepared. 
Our face shields, face masks and protective eyewear are made in Europe using high quality materials. We are dedicated to supporting our producers in Italy during this difficult time. Our face protection products can be customised with branding to protect your employees in customer-facing jobs.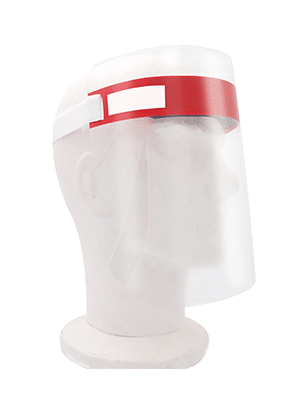 Flexible visor 0.5mm thick; Weight: 60g 
30.0cm wide x 22.5cm high; reaches below the chin 
Allows you to wear optical glasses underneath 
3.5cm wide, adjustable, elastic rubber band, 
ECO foam between forehead and visor 
30.0 x 3.8 cm branding option on front label 
Additional name / ID in white possible
Material: Polycarbonate
Model "Protection goggle"
19.0cm width x 8.5cm height 
Weight: 120g 
Final protection over the eyes 
Allows you to wear optical glasses underneath 
3.5cm wide, adjustable, elastic rubber band with branding option 
Material frame: PVC Medical 
Transparent polycarbonate lens
Model "Protection glasses"
14.5cm wide x 5.8cm height 
Weight: 35g 
Lateral to the eyes 
Material frame: TR90 Grilamid 
Transparent polycarbonate lens 
Category: For personal use. / Not a medical product and not to be compared with FFP2 or FFP3 masks.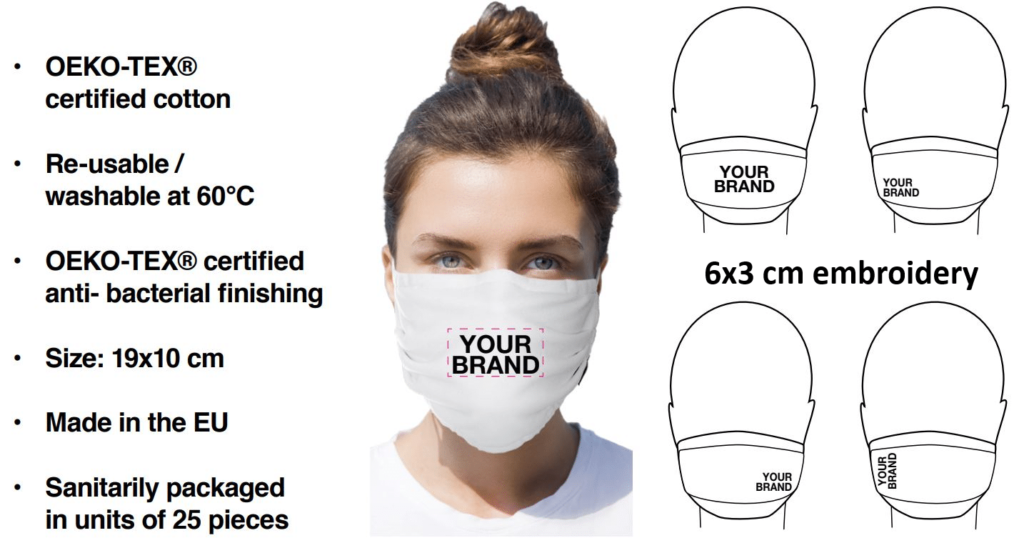 Important Note: Our face masks, face shields and protective eyewear will not stop you from contracting COVID-19 and they are not medical products. They can help reduce exposure to the virus and act as additional safety measures in public spaces.
If you'd like to find out more about our protective eyewear and face products, click below.
Be bold in the time of a crisis. Are you interested in Special Edition statement eyewear for your brand? Get in touch.